Epoch Ink Animation is a full service animation studio, specializing in producing high quality animation, concept, design and development for all aspects of the medium including TV, video, film, commercials and video games.
With a history spanning more then fifteen years in the competitive Los Angeles animation industry, Epoch has produced more then 80 half hours of top quality animation for the U.S. TV marketplace, numerous animated shorts, pilots, and music videos, and developed an industry-wide reputation as an animation concept and design powerhouse.
Epoch was founded in 1993 by animation creator and producer-Joe Pearson. A thirty-year veteran of the animation industry, Joe's personal mandate was to found a studio that would consistently produce animation and design at the highest level possible for the budget, in an artist friendly environment.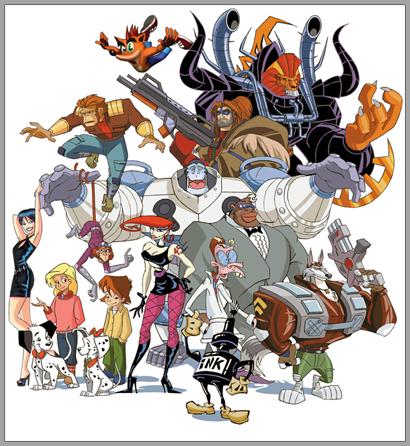 Writing about Epoch Ink in an extensive article in "The Animation Report", animation writer and historian, Harvey Deneroff, wrote: "Much of the Studio's work seems influenced by anime and the work of such studios as Warner Bros. (especially as seen in "Batman: The Animated Series") John Kricfalusi and Ralph Bakshi. "My own personal style," Joe Pearson says, "is post-Warner's, though "Collet .45" has a Bakshiesque style. I like a really rich color palette, with strong shadows. Brad Combs favors the post-Batman style we used in Space Monkeys and Roswell, while Young Yoon is a real devotee of the hard anime look of "Akira" and "Robot Carnival"'. Perhaps the most distinctive part of the studio's approach is reflected in Pearson's penchant for creating new worlds. "I pride myself on the fact that everything that I've directed or produced has a really unique look". The Animation Report, January/February 1998.
Currently located in the Venice Beach area of Los Angeles, Epoch has assembled a top team of animation creatives writers, designers, directors and producers. Epoch's mission to provide the best in service animation and design for their clients as well as developing an extensive line of original animated properties for the marketplace.